The nail art pen is specially designed to be used with water based acrylic paint. They are perfect to create thin lines and fine swirls. If your not comfortable using a brush, then this is a fantastic tool to get fine details into your nail design.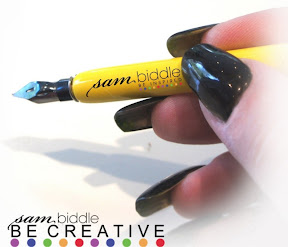 I thought it was time to bring you some Top Tips for your nail art pen.
1. Water down your acrylic paint so it is the consistency of milk.
2. Make sure your paint has a high pigment content, so as you water it down it doesn't loose the depth of colour.
3. Dip the pen into the paint, so the well fills up completely.
4. The nail art pen will only work on a rough surface. Make sure the surface of the nail has been buffed.
5. Make sure you keep the nib of the pen clean, if you allow it to dry out to much it will clog and prevent the flow of paint. Dip nib into a glass of water and wash.
6. Clean the paint out of the pen by washing it through with water.
7. These pen work the same way a caligraphy pen does, but these nibs will work with a thicker pigmented fluid.
8. When you receive you pen you will need to insert the nib into the end of the holder.
Available from www.sambiddle.co.uk. For more information email info@sambiddle.co..
CopiedImage.png
- Posted using BlogPress from my iPad2
Location:UK