It's been just over a month since my return from the states, well actually if I am honest it's probably closer to 2 months, I know it's naughty of me but I think today the first day I have had to catch up with my blog. Last June I was delighted to join my good friend Carla in the USA again, where we put on a great class for the girls in Orlando. It is always amazing to work with nail technicians from different countries, not only do styles and taste
vary, but the the knowledge exchanged can be invaluable. I wanted to show you some of the exciting things the girls did on the 2 day be inspired design workshop. We cover a range of different design techniques.
Day one was all about acrylic, creating these spectacular fantasy flowers. This part of the day gave the nail technicians an opportunity to hone their product control, we worked with acrylic creating these petals and leaves to help with inspiration and creativity. The morning was an exercise to develop product control and develop design placement.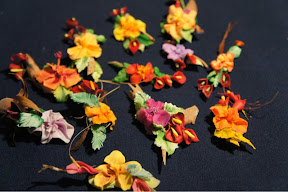 There was a wide range of skill levels some producing stunningly intricate pieces, some surprising them selfs with their creations, but there were a few who didn't use acrylic at all at work, so for them this was a perfect opportunity to work with a material and really see what it can do. I am always saying that even though the fantasy work looks amazingly complicated, once it has been broken down it is really very easy, and a satisfying thing to do.
We continued in the afternoon and did some design nails, working with the acrylic we we're able to put all the newly learnt skills with design placement to the test. Also working with texture and depth, I was happy to show the girls a couple of great nails ideas for the salons. Ones that can't fail to impress the clients, which ultimately is the point isn't it.
Day 2 was all about Gel, we really got all sticky and played with hard coloured gels, gel paints and used the ARABELLA forms to create some very handy embellishments.
All the girls on Day 2. We all enjoyed the gel so much, I am planning to return for an Ultimate Gel event this October with Carla, it is two days of gel extravaganza, we plan to help techs get the very best out of gel, create some inspirational and creative nail designs and Jim McConnell from Light Elegance will unlock the mysteries of Gel and answer all those unanswered questions! More information will be available on my website.
I will be posting part 2 of my trip very soon, about how I got to work with IBD at the premier show, who I got to meet, and what I thought about the competition.